Water Slide Rentals in Gumbranch GA
On-Time High-Quality Water Slide Rentals Delivery To Gumbranch And Surrounding Areas
Water Slide Rental Near Me
Order-by-Date

Slides and Combos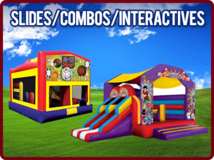 Obstacle Course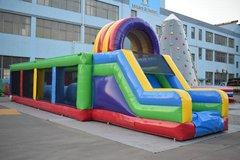 Dance Dome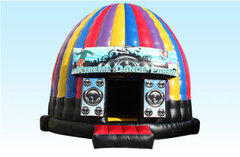 Trackless train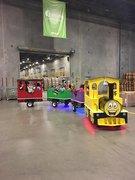 Interactives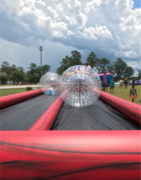 Wet/Dry Combos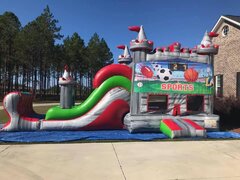 Bounce Houses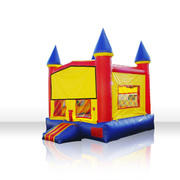 Concessions and Add-Ons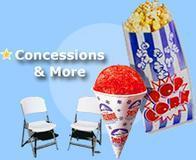 Why Choose Ubounce For Your Water Slide Rental in Gumbranch GA?
When renting a water slide rental in Gumbranch GA look no further than Ubounce. Ubounce is fully licensed and insured in Gumbranch GA. With our fantastic selection of high-quality, commercial grade, water slides, we are sure to find you the perfect water slide rental for your party. All our inflatable rentals are cleaned and disinfected between each use, you never have to worry about getting a dirty water slide. Our 5-star google reviews will tell you anything you need to know about our customer service. Safety is our number one concern when renting a water slide. All our inflatable rentals in Gumbranch GA are safely set up according to the manufacturer's recommendations to ensure the safest party or event.

•Fully licensed and insured
•Delivery high-quality commercial grade inflatable water slides
•Always clean & disinfected
•Certified 5 star Google Reviews
•On time water slide deliveries
Explore Our Gumbranch Water Slide Rentals
Water Slide Rentals have been a staple for kids birthday parties and festivals for years. But now we have so many other options than just Water Slide rentals. UBounce has an amazing selection of Slide Combo Water Slide Rentals. This combo inflatable rentals include a large bouncing and jumping area with an attached inflatable slide. These types of inflatable Combo Slide Water Slide Rentals have quickly become extremely popular. If you're looking for the best Water Slide rentals around, look no further than Ubounce because we have everything you need to keep your kids entertained.

Bounce House Rentals: Standard Bounce Houses

Water Slides: Inflatable Water Slides Are Fun And Beat The Summer Heat

Water Slide Bounce House Combos: Combine Bounce Houses And Water Slides In 1

Obstacle Course Rentals: Combines Inflatable Fun As Well As Obstacles And Slides

Trackless Trains: Safe Fun For The Little Ones

Interactive Games: Giant Inflatable Games Great For Team Building And Competitions



Ubounce specializes in water slide rentals for everything from birthday parties to large scale festivals. We have large inflatables are perfect for school and church events where you'll need to get all those kids in and out without having too much congestion on one activity. Ubounce interactive inflatables are great for corporate events that require team building and a competitive factor. A huge feature is the Trackless Train, it's a hit at festivals and fairs and gives the little ones a really fun, safe experience. Reserve TT for your next big event. Our water slide rentals are perfect for birthday parties, schools, churches, corporate events, festivals, and more!






We proudly deliver to Hinesville, Ludowici, Jesup, Glennville, Gumbranch, Allenhurst, Flemington, Midway, Walthourville, Riceboro, Fleming, Richmond Hill, and more. Our delivery fee includes us cleaning the equipment, delivering it to your event, and setting everything up safely to your satisfaction.



Our Service Area
We Proudly offer clean, on time delivery to the following areas:

Allenhurst
Flemington
Fleming

Is your event outside of our listed area? Contact Us below as we frequently deliver to events farther out and sometimes special accommodations can be made.

NOTE:

Extra fees may vary depending on how far you are outside our service area.
Waterslide Rentals Gumbranch
Waterslide Rentals Gumbranch are our number one biggest seller. Everyone loves a bounce house and even a dunk tank can be fun but a water slide rental Gumbranch is the ultimate Wow factor for your next party. These giant water slides are sure to please. However, be sure that you have enough area for set up, as they can get pretty big. We will also need to hook it up to a hose, as that is how the water gets to the slide. Be certain that you have a hose that will reach the area. We are certain that your guests will love the water slide rentals Gumbranch so much that you will be back year after year.
We are UBounce.biz, offer waterslide rentals Gumbranch and surrounding areas. All of our water slide rentals Gumbranch come disinfected and ready to go. We take great pride in our rentals and our reputation and it shows with each setup that we do. Our water slide rentals Gumbranch are sure to please. Everything will arrive looking it's very best. We are professionals and are not working with subpar units, everything is commercial grade and ready to go. We have passed state inspections and carry insurance on our business. We have worked with individuals but also municipalities and schools setting up various events and fundraisers.
Water Slide Rentals Gumbranch for fundraisers
Do you have a fundraiser that you are in charge of? Most schools and churches try to sell things that are completely overpriced items that nobody wants. You then have to collect the money and place an order. However, when you offer an inflatable carnival, people are excited to come and join the fun. All of our water slide rentals could be a part of an amazing fundraising event. The charge however you'd like, at the door or per ride. It is entirely up to you how you monetize your event.
Throwing parties for students that have been on their best behavior is another event idea that we have seen at the schools. Schools like to reward the kids from time to time and our business caters to just that. We offer schools copies of our insurance and licensing information. We understand that it is policy and isn't a problem at all. If you have issues with other vendors in the past, no worries. Not everyone in the party rental industry is professionals, however, we are. We want everyone to have a great time.
The best part about getting a water slide rental Gumbranch is that we do all the heavy lifting for you. We bring everything out to you and set it all up. When your party is over we will be back out to pick it up and tear it all down. Our water slide rentals Gumbranch are a huge hit in the area for summertime rentals. Do you have some bored kids? Get them a waterslide for the day!! This will be hours of fun and entertainment. Invite friends and neighbors and have an amazing time.